Remote working has become the new norm and reality, especially for developers. A study conducted by Fiverr reveals that 73% of workers went remote during the last four years. Furthermore, 80% of respondents wish to continue working remotely for as long as possible. But, here's the million-dollar question that led to the creation of this post; 'how do you hire remote developers?'
The pandemic also helped promote the idea of remote working, and many companies opted for it rather than simply shutting themselves down. It seemed like a temporary fix when the pandemic hit, but it has become the accepted behavior.
However, building a remote team is no walk in the park. Many factors need to be understood and tinkered around until you can get it right.
For instance, you need to find the right talent in terms of their expertise and ensure that they are also an excellent cultural fit. In addition, the hiring process needs to be seamless and must have minimal friction while catering to your specific needs.
This post will serve as a detailed guide on how you can successfully hire remote developers in 2022.
What Is A Remote Developer?
Remote developers, as opposed to the in-house ones, virtually interact with the team. However, they remain a part of it. What sets them apart is the fact that they could be based anywhere in the world. Furthermore, they might not even be personally acquainted with employers.
Such interactions used to be limited to the freelancing community; however, even full-time developers can choose to work remotely now.
Only geographical location is the decisive factor when it comes to separating in-house developers from remote developers. So, a remote developer is still a contributing member of your team but can work from anywhere and doesn't need to come to the physical office space.
Forms Of Cooperation With Remote Developers
Having said that, however, there are different kinds of cooperation that you could choose when hiring a remote developer.
Full-Fledged Employment
Full-fledged employment is when you recruit or hire a remote developer as a full-time employee. The said developer will be working remotely as a full-time employee of the organization rather than working on a particular project.
In this form of cooperation, the remote developer is given the same responsibilities and rights as the rest of the company's employees.
Outstaffing
This is when you hire a remote developer (specialist) who is working at a contractor company (outstaffer) for a particular project in your company (customer). The specialist becomes a part of the client's team and is managed by the customer. However, the customer pays the outstaffer, which pays the specialist's salary.
Outsourcing
On the other hand, outsourcing is the transferring of part of business processes by a company to specialists with relevant development expertise. For this kind of cooperation, an agreement is signed with an outsourcing company that offers the outsourcing services for a fixed period.
Dedicated Team
The final form of cooperation is known as a dedicated team. This is when you don't hire individual remote developers for a project but rather procure an entire team's services that possess the required skills to execute the project successfully.
So far, we have talked about who is a remote developer and the kinds of cooperation that exist when it comes to procuring their service. Now, let's discuss why hiring remote developers is beneficial in more than just a single aspect.
Reasons Why You Should Hire Remote Developers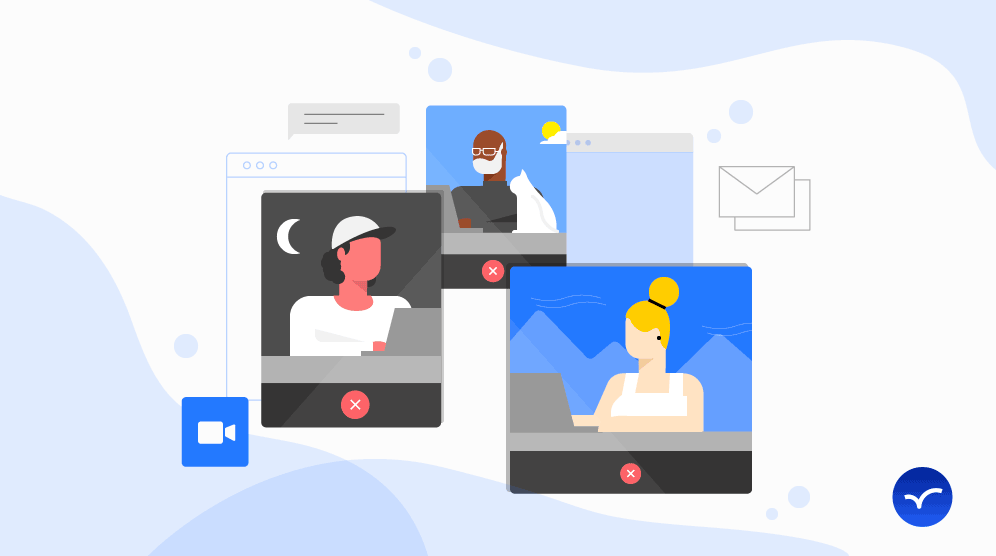 The most obvious reason why a company would want to procure the services of a remote developer is cost reduction. However, that's not the only benefit that comes from hiring a remote developer(s). There are three-fold benefits that are detailed below:
Benefits For Employers
What follows are some of the biggest benefits that employers enjoy when they hire a remote developer:
Cutting Down On Expenses
Hiring remote developers helps you to cut down costs, including expenses related to office space, supplies, utilities, stationery, and other overhead charges. This can help you save roughly $11,000 per employee per year, and that's only if they are working from home half the time.
Access To Global Talent
You are no longer limited to the local talent when you're hiring remote developers. Rather, you have a pool of global talent that you can tap into and hire a remote developer that best suits your needs.
Better Productivity
Statista conducted a global survey, and 60% of respondents reported that having remote work setups has positively impacted the developer's productivity. As an employer, this increased productivity will help your business grow.
Flexibility
The current economy requires companies to remain agile and flexible. Hiring remote developers is a great way of ensuring that you enjoy a competitive edge in the market.
Well-Being Of Employees
As a business entity, the happiness and health of your employees will help you build your reputation. Furthermore, it also leads to employees becoming more engaged and actively working towards achieving the company's mission.
As a result, they become more productive and can also help you yield great results.
Benefits For Remote Developers (Employees)
Some of the most popular reasons why developers prefer working as remote developers are discussed below:
Increased Productivity
Working remotely has a positive impact on productivity, as is mentioned above in the data from Statista. The remote developers don't have to commute, and therefore this helps them be more productive and energetic.
Flexibility
A survey by Buffer concluded that remote workers find the ability to have a flexible schedule and work from anywhere to be the best benefit of working remotely.
Work-Life Balance
Transportation issues, traffic, and prolonged commute times have a direct link to depression. Remote developers, however, can choose to work from where they choose. Thus, allowing them to maintain their work-life balance better.
Better Time Management
Remote developers have the freedom to better manage their times without having to face regular distractions that are a constant part of in-office life. This helps them to create better workflows. Rather personalized workflows that work well for them.
Benefits For The Earth
Hiring a remote developer doesn't only have benefits for you or the remote developers. Rather, it is also beneficial for mother nature. As per Global Workforce Analytics, working remotely for even half a year allows the following to be saved:
640 Million Barrels Of Oil

$20 Million In Gas

54 Million Tons Of Greenhouse Gas Emissions
Now that we have discussed the many benefits of hiring remote developers let's look at the challenges that hiring them poses.
Hiring Remote Developers | Challenges, and Solutions
There are challenges when it comes to hiring remote developers. These challenges are not to be taken lightly, and you must carry out your due diligence to avoid being in the harsh waters later. Some of the prominent challenges and their potential solutions are discussed below:
Ensuring A High Quality Of Service
Companies can be reluctant to hire remote developers because of the quality of service they may receive. As a result, the hiring managers, inexperienced ones, often end up hiring unqualified developers in the hopes of saving costs.
What's The Solution?
This potential challenge can be overcome by conducting thorough testing and evaluating the skills and expertise of the remote developer before signing a contract. Furthermore, it is always a good idea to look over their portfolio and get an idea of their expertise.
Messing Up Your Budget
Hiring remote amateur developers can lead to delayed timelines and the budget going out of hand. For instance, if you hire remote developers that have little experience in the hopes of saving money, you may very well end up spending more to make up for the mistakes, delays, or other issues that you may run into during the development process.
What's The Solution?
This situation can be avoided by working with an agile, experienced, and reputed offshore software development company. This helps you enjoy high-quality development services at affordable rates.
Conflicting Or Mismatched Expectations
Suppose you cannot clearly express and convey your expectations when hiring remote developers, then you both won't be on the same page, which can be catastrophic.
As a result, your remote development team might believe that it understands the scope of the project, but that won't be true. This would lead to all kinds of issues arising and clashes.
What's the Solution?
The best way to ensure that all concerned parties are up to speed and on the same page is through clear and effective communication, especially when you're hiring remote developers. So you should make it a habit of hiring remote developers that ask questions and establish well-defined lines of communication.
Different Time Zones
A major challenge that companies hiring globally remote developers face is that of time zones. A larger difference can lead to difficulty in communicating, setting up meetings, and conflict or issue resolution within the team.
For example, 7% of respondents said that working in different time zones than their teammates was the biggest struggle of remote work for them in this survey by Buffer.
What's The Solution?
If you have a workforce that operates in different time zones, then you need to understand the importance of asynchronous communication. The async-first needs independent and highly motivated employees that are capable of working their work while being accountable with little or no direction.
Therefore, when you're using sourcing or evaluating remote developers, you should keep an eye out for these qualities.
Monitoring & Managing Your Workforce's Productivity
It's not easy to manage and track the progress of your project. However, it becomes a bigger challenge when your team is spread all over the globe.
What's The Solution?
When it comes to managing a remote team and ensuring that your developers remain productive, it pays off to have a dedicated project manager that can monitor the productivity and strategically manage the tasks. Generally, professional outsourcing companies have dedicated project managers for their clients.
Now that we've talked about the challenges let's talk about the qualities you want to look out for in the remote developers you hire.
Qualities Of A Good Remote Developer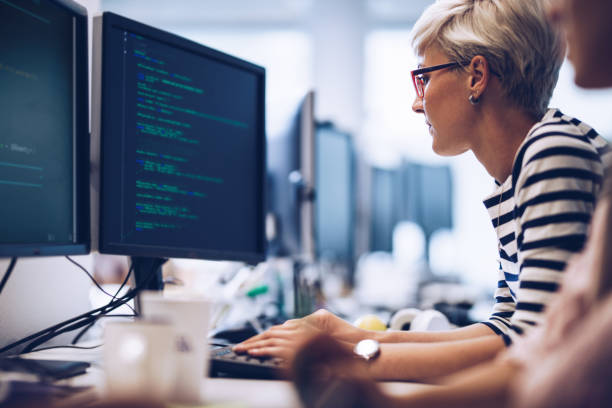 Any remote developer that you hire must be good in the skill, e.g. programming, project management, or other skills; that's a given. However, that's not the only aspect on which you should base your hiring criteria (in fact, there's a detailed section on the hiring process that is discussed later in the post).
For things to go smoothly, your remote developers should possess some other-than-development qualities. Some of those qualities are discussed below:
Their Discipline Should Be On Point
Discipline is key when you're working as a remote employee, and the same is true for remote developers. They need to be disciplined enough to honor deadlines and deliver the work without any external intervention.
They Should Be Able To Effectively Communicate
Effective communication is one of the most crucial aspects of running a project. Your remote development team needs to be able to communicate well with the other team members while also being able to communicate with the clients.
They Should Be Willing To Take Initiative
Taking the initiative isn't only limited to coming up with and executing new ideas but also covers how willing the remote developers are to look for guidance when needed.
They Should Be Able To Keep A Balance
This may seem counterintuitive, but why wouldn't you want to hire a remote developer that's all about work? Well, that's because it may backfire sooner than later. Without a balance between office and home life, an employee is bound to exhaust themselves, leading to burnout which can be detrimental to the progress of your project.
Their Time Management Should Be Exceptional
When it comes to the IT industry, multiple projects are going on simultaneously. Even a single project may have different components, such as the client-end and the customer-end of an application or the mobile and desktop applications.
Therefore, the remote developer needs to be able to properly manage time and allocate the required amount to the desired task.
That's why when you're hiring a remote developer, you should opt for the one that is capable of keeping up with the schedules and deadlines.
A Positive Attitude Goes A Long Way
Development projects tend to get tricky and pose new challenges every day. That's why you need a remote developer that has an optimistic attitude toward solving problems. We've already talked about the fact that development projects have strict deadlines.
When coupled with their complexity, it can become a daunting task. Thus, always go for a remote developer that can embrace change and is capable of not giving in to these challenges.
They Should Contribute Towards Team Building
You may hire the most skilled remote developer, but if that developer isn't willing to help the other team members grow, then you're on the losing end. You don't want to bring an employee on board that's a lone ranger because that would sabotage your team spirit.
Rather, you should look for remote developers that appreciate team-building and can work in a collaborative environment.
They Should Be Mature
And no, age is not a true reflection of maturity. Instead, we are talking about professional maturity because a mature professional is bound to have most of the qualities mentioned above.
Now that we have discussed what skills remote developers should have, let's talk about the process of how to hire remote developers.
The Right Way To Hire Remote Developers For Your Projects
So, after studying the benefits of procuring the services of remote developers, this is time to dig deep into the most crucial part of the process: The right way to hire remote developers.
You will have thousands of applications to screen through, and the process may seem overwhelming, but we have compiled a list of processes that you can follow to find the best talent pool and make a selection based on your needs:
Find The Right Talent Pool

Initiate The Screening Process

Perform Soft Skills Interview

Analyze Technical Aspects

Make The Initial Offer
Find The Right Talent Pool
You need to attract a wide pool of candidates when you decide to hire remote developers for your projects. This will help you narrow down the best first. There are many ways to source talents for your projects. Here is the list of the three best ways to find talent:
Freelance Marketplaces
Freelance platforms such as Fiverr and Upwork can help you find the best talent worldwide. They can help with your long and short-term needs. You will be able to find the talent that encourages "schedule flexibility" and loves to take up new challenges.
Job Ads
You can easily find new software and website developers by posting your requirements on job portals such as Indeed. You can also use your career section to attract new talent.
Social Media
LinkedIn, Facebook, Instagram, and Twitter can also help you find the talent that will be beneficial for your company. You will find many job-related groups where you can create a job opening, and the interested candidates can easily get in touch with you.
Initiate The Screening Process
If you plan to hire the best developer for your business, you need to spend more time sorting and screening applications. You can take the help of Stack Overflow and GitHub and check whether the resources are culturally fit for your projects. This process will help you hire exceptional developers from distant locations that have the right skills.
Perform Soft Skills Interview
When you are done with the screening process, it is now time to individually interview all the candidates to make the right decision. As a business owner, you need to focus on the questions that help you gauge the candidates' interpersonal and communication skills. This allows you to know whether the candidate is culturally fit for the company or not.
This kind of interview will focus on the employee's personality, attitude, and value system, and HR's main focus should be on the behavioral questions when hiring remote teams.
Analyze Technical Aspects
A good developer will have the right soft and technical skills to perform a specific role at your company. Therefore, you need to run a soft skill and technical interview before making a final hiring decision.
You need to make sure that the technical interview is conducted by a technical architect, senior engineer, or team lead.
Make The Initial Offer
This is the point when you have probably decided who to hire. Now, you need to make an offer, and if it is accepted, onboard the developers.
The process will help you find the best talent in the world. First, you need to establish effective communication channels, gather the necessary paperwork, and set up meetings to present them with a list of things that every employee should know. An important part of the onboarding process is to provide training to the new developers and answer any questions that arise in their minds.
Important Factors To Consider When Hiring Remote Developers
Most companies are looking for technology partners that can help add value to their organization and cut costs. If you are one of them, here are some factors that you should keep in mind when hiring a remote development team.
Understand Your Project Needs

Have A Detailed Screening And Hiring Process

Go For Candidates With More Experience

Verify Credentials

Hire Resources That Have Familiarity With Tools

Company Culture And Values

Time Zone Difference
Understand Your Project Needs
Before you start scrolling the remote developer hiring platforms, it is imperative to decide why you need to hire a remote developer. First, ask yourself whether you need to hire a developer for certain projects or do you want to hire them on an ongoing basis? Am I looking for an Android developer? A website developer? Or a software developer?
Defining your goals will help you determine the kind of skill set you require from the remote developer. Different projects call for different tech stack expertise, and if you want to get things done the right way, you need to identify the right developer to do the job. You need to consult your CTO, go onto the forums or reach out to us at OmniTiim [find out how we operate], and we will guide you according to your needs.
Have A Detailed Screening And Hiring Process
When you have shortlisted the potential candidates for the job, the next logical step is to put them through a detailed screening process. This will help you know which candidate can understand the project requirements, collaborate closely, and complete the projects at a steady pace.
This thorough process will involve a multi-step screening where you gauge their skills, competency, and commitment. For instance, if you speak English and the developer you are hiring is an Indian. Next, you need to see if they can easily comprehend your instructions and communicate their ideas with you.
As far as the tech skills are considered, you can pair the new developer with an in-house expert.
Go For Candidates With More Experience
Developers who have experience working on similar projects can help you scale faster. Again, we are not showing any bias towards the newbie developers, but a developer with previous working experience knows what to prioritize and how to handle blockers and will have a familiarity with the policies and prerequisites they have to abide by.
Verify Credentials
There will be no problem for experienced developers to provide references for their work. Call these references and discuss their work history to know that you are hiring a good developer.
When you are hiring a remote developer, you must consider your organization's safety. Some candidates might have criminal records, and this can jeopardize the entire workplace.
Hire Resources That Have Familiarity With Tools
A remote developer has to be proficient with the technical tools and needs to have a basic know-how of the project management and communication tools. This will help you communicate the timetable when you can't physically monitor their performance. They need to clearly understand tools like Gmail, Skype, Zoom, Slack, IFTTT, Zapier, Asana, Basecamp, and DropBox.
Company Culture And Values
Your values and culture must align to ensure a good collaboration. Apart from sharing your company values and culture with the developers, you need to have a quick assessment test to ensure good working conditions and compatibility.
Time Zone Difference
You do not know who you are going to connect with when you start the hiring process. There is a high chance that the remote developer will have a different time zone. Considering the time zone difference will help you set the delivery expectations.
6 Places To Source Good Remote Developers
After understanding the hiring process, you will need to find places where you can find the talent pool that can help you excel in the business. Here are six places where you will be able to find the perfect developer to cater to your needs:
Freelance Marketplaces
These marketplaces are the best choice for business owners who are looking for developers for a specific short-term project. The freelancers advertise their talents, availability, and pay requirements on these platforms. You can easily scroll through the talent pool and find the right match.
Job Boards
Job boards are one of the finest places to look for talented people. This is a labor-intensive process, but if you take some time to invest the proper effort and time, you will find the talent you are looking for. Here are some top job boards for your consideration:
Outsourcing Agencies
Working with the outsourcing agencies makes the entire process a breeze. First, you only need to contact them and share your requirements. From there, they will do the heavy-lifting and find suitable IT professionals for you.
Referrals
Having a strong social circle and links to the top IT professionals can ease the hiring process for you. Referrals are the most important way to acquire information about new employees. They will help you know more about the work ethics and skills of the persons you are hiring.
LinkedIn
This platform was created for professionals of different sectors to collaborate and share career advice. It has grown into a place where you can find the right in-house and remote talent.
OmniTiim
OmniTiim is a platform dedicated to helping IT companies in the United States find the right talent from all across the world. They are not a typical outsourcing agency; they are a source from where you can find vetted remote developers for your specific projects.

‌
Unlocking The Full Business Potential: Hire Remote Developers The Right Way In 2022
Technology companies hiring remote workforce from far-off locations is not a new phenomenon, whether it is the global lockdown or finding new ways to save money.
According to a report, 80-90% of persons with disability are unemployed, and they belong to different industries, including information technology. Hiring the remote workforce helps a company tap into the global talent pools and promote diversity and equality. With the soaring increase in the tech demand and remote modes of work, one of the first questions that come to mind is: What is the best way to hire remote developers in 2022?
Different factors come into play when it comes to hiring a remote developer for the business. But, at the end of the day, it is best to explore all the possibilities out there to help make the right decision.
Let's discuss the three best ways to hire remote developers and how this helps you build the dream team in 2022:
Traditional Outsourcing

Freelancer Platform

Dedicated Team Model
Let's dive in and study each option separately.
Hiring Remote Developers through Traditional Outsourcing
One of the most common ways to find remote developers is to turn to an outsourcing vendor who uses their in-house team to develop programs and applications per your visions and requirements. In this deal, the project is locked from start to finish; the deliverables are outlined in the contract. While this is one of the most used models used in the market and offers many benefits, it also has its fair share of cons:
Pros
If you have hired the right vendor for the job and they have a seasoned team of developers, then hiring through this model seems viable. You won't have to manage each developer individually, and all the management issues and responsibilities rest on the vendor's shoulders.
Cons
Although you provide all the details of the project to the vendor and share the vision, you will not have control over the development process, and this process may not yield the results you expected.
Hiring Remote Developers through a Freelance Marketplace
Business owners look towards the freelance marketplaces when they need to bring extra hands on the deck. We have listed the benefits and shortcomings of hiring freelance developers.
Pros
Freelance remote developers do not come as full-time employees and help you save the overhead costs. You will find a broad pool of remote developers for hire, and finding the right fit for the projects is fairly easy. You also have the freedom to end and renew cooperation as per your needs.
Cons
You will face many issues in terms of consistency and focus, as the freelancers typically juggle projects from multiple clients. A lot of effort goes into managing the freelancers, especially when there are a lot of people working on the same project. Synchronizing their work when there are long approval chains can be exhausting.
Working With Companies That Hire Developers On A Dedicated Model
A dedicated team model is a way to easily access remote development services. A separate team is being set up at the vendors' office, and the remote engineers will report to you directly. They will work as an extension to your in-house development unit and can help to complete the projects at a faster rate.
Pros
You can be a part of the hiring process, and the developers will dedicatedly work on your projects. You have the freedom to expand your team as the project grows and hire as many remote developers as you need. The vendor will take care of the developers' needs while they work per your company's practices and workflow.
Cons
Depending on your internal system's complexity, an extensive onboarding process may be required. If you have imperfect workflows and internal flaws, the remote developers will hit a roadblock and fail at their tasks. Likewise, if you lack managing the employees, you will face loss in the dedicated team model.
So, Which is Better Then?
Running a business has its fair share of obstacles that you need to overcome. If you lack resources and think it is not feasible for you to hire an in-house development team, hiring a remote development team is a perfect choice for you.
If we were to put all three options on the scale of their reliability, freelancers would rank the lowest as this model is associated with unpredictability. Traditional outsourcing will take second place, as you might not know which developer is working on the project or how skilled they are. In addition, you will be in constant confusion about whether you will receive deliverables per the contract.
At the end of the day, the dedicated model offers more freedom, and you can get more done in less time. You just need to have excellent managerial skills for handling the remote team and ensure a steady workflow.
Conclusion - Hiring A Remote Developer
We've talked about different aspects in this post. But to sum it all up, hiring remote developers in 2022 is not a fad that's going to go away. Rather, it is a new reality, and businesses all over the world are opting for it. However, finding the right talent and ideal cultural fit is a hectic task that can prove to be quite daunting. That's why it is strongly recommended to rely on OmniTiim.
Failed IT projects alone cost the United States $50-$150B in lost revenue and productivity. OmniTiim is on a mission to change that by offering skilled and vetted remote developers. We have a two-pronged strategy.
We serve as a platform that helps businesses to hire talent, thus, helping them reduce project failure.
On the other hand, we help talent connect with the right client - a client that's a good match for their skills and personality. It is important to note that many skilled developers tend to end up on the wrong side of things when working with a client that's incompatible with them. Join the team to unleash the right opportunities.
So feel free to reach out to us, learn more about our services, and procure the right talent for your projects!
Frequently Asked Questions
Where can I find remote developers for hire?
There are various platforms that you can use to hire skilled remote developers. For instance, you can use freelance platforms, outsourcing platforms, and tech conferences. However, if you don't want to be caught up in the nitty-gritty details and messy hiring process, we recommend using OmniTiim to provide you with vetted remote developers.
What are the best countries for hiring remote software developers?
Some of the current best countries to procure the services of remote software developers include Ukraine, Pakistan, Argentina, Poland, Romania, and Mexico.
Where can I find the best full-time remote developers?
You can check out OmniTiim for skilled and vetted full-time remote developers. It is cost-effective and can help you get rid of the menial tasks, thus freeing up your time for other aspects of your business.
How much does it cost to hire a team of developers?
There's no concrete answer to that since it depends on a variety of factors. Some of those factors include the following:
Scope of the project

Required skill level of developers

What's the country of origin of these developers

How many hours are needed every week